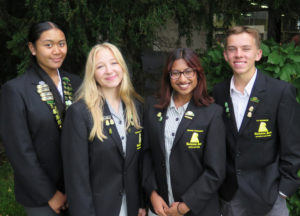 Gladstone Park is a single campus, co-educational Year 7 to 12 College of over 1600 students that services a large residential community in the North Western suburbs of Melbourne. We have a culturally diverse enrolment.
The school operates using a Sub-School model with Junior School years 7 – 8; Middle School years 9 – 10 and Senior School years 11 – 12. Currently more than 30 primary schools provide students for entry at Year 7.
The school provides a core program in the Years 7-9. The Year 10 blocks are aligned with the Victorian Certificate of Education (VCE) blocks and VCE is the predominant course offered at Year 11-12, supplemented by a small and highly sought after Victorian Certificate of Applied Learning (VCAL). Vocational Education and Training in Schools (VETiS) is also offered to post compulsory students. A considerable proportion of Year 10 students undertake a VCE subject or pursue additional pathway options within the conventional curriculum program.